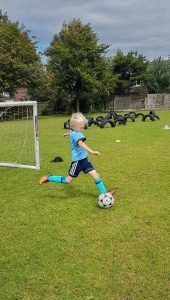 As we bid farewell to the Beast from the East, turn our attention to the second camp of the year and hopefully look forward to Spring, I find myself reflecting on recent camps and the effort to coach and improve the thousands of youngsters we have had the pleasure to work with.
With children aged four to sixteen years of age coming to our camps, the message will always be the same, to work hard particularly on the technical aspects, and then eventually these skills will be transferred to the game and the teams our youngsters play for.
Players develop at different stages and for those who show significant improvement, we also have the option of recommending them to local teams who play Saturday and Sunday football in local leagues.
For the very best players, we have the permission to contact our North West professional clubs and Premiership clubs that may be interested and keen to offer trial periods for those they think are at the required level.
Over the years, it has given us pleasure to see many young aspiring footballers signing academy forms for professional clubs. They then have to make their mark and continue to work even harder to ensure they maintain their level of performance in training and in games which will determine their future attendance at that club, but what an opportunity they have!
One of the many pleasing things about our camps is the number of academy players past and present who attended the extra training session with our excellent coaches. They will inevitably have friends also attending and many of our children have been coming for years so the atmosphere with so many different personalities getting together is fantastic.
Between the aged of four (reception) and sixteen – you are all very welcome, the team and I look forward to seeing you at our 2018 camps.